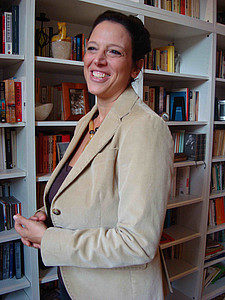 Alessandra Pauncz has been working in the field of domestic violence for 20 years and has covered many areas of expertise. She has advocated and worked for victims of domestic violence as a shelter worker, psychologist, researcher, manager, trainer, and in fund and conscious raising at a local , provincial, regional, national and European level ( She founded and ran the first Centre in Italy working with perpetrators (namely the – Centre for abusive men), and set up the National Italian Network of work with perpetatrors (Relive). Additionally, Alessandra has published articles and books like Shifting power: How to recognize and overcome psychologically abusive relationships
She is the executive director of Work With Perpetrators. The European Network for the Work With Perpetrators of domestic violence (WWP EN) is a membership association of organisations directly or indirectly working with people who perpetrate violence in close relationships. The main focus of WWP EN is violence perpetrated by men against women and children.
The overall mission of WWP EN is to prevent violence in close relationships as a gender-based phenomenon and to foster gender equality. More specifically, the mission of WWP EN is to improve the safety of women and their children and others at risk from violence in close relationships, through the promotion of effective work with those who perpetrate this violence, mainly men.
Today we will discuss  why WWP focusses on perpetrators of violence, why perpetrators don't see themselves as a perpetrator, the differences within Europe regarding to perpetrator programs, why working with perpetrators makes you less helpless and how we can change the judical system.
TOPICS DISCUSSED AND ORGANISATIONS/EVENTS MENTIONED IN THIS EPISODE:
2.25: The beginning of WWP
5:55  Why WWP focuses on perpetrators
7:50 Are men really held accountable via the media
9:00 Violence in Italy
11:00 Why the media isn't helpful and why perpetrators don't see themselves as a perpetrator
12:28 Is there a big difference between perpetrator programs accross Europe?
15:15 About the coming annual workshop
18:00 The effect of pornography on boys
19:55 Behind the scenes of the European framework perpetrator programs
21:00 Publicly available research
21:45 The different kind of perpetrators referrals
25:00 What a perpatrator feels
28:10 Events coming up for WWP
29:00 What do you want to accomplished?
31:00 Pressing issues that WWP faces
34:00 What kind of change do we need?
35:40 Is a perpatror sorry for himself or for the victim? What does he regret exactly?
36:00 How Alessandra was being haunted by the ghosts who haunted all the women Alessandra has worked with and how that influenced how she looked at the world. And how her son helped her to get rid of those ghosts.
42:00 Why working with perpetrators makes you less helpless.
44:25 Recommending book allen Jenkins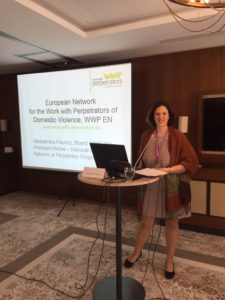 TWEETABLES and QUOTES:
MORE ABOUT ALESSANDRA PAUNCZ AND WORK WITH PERPETRATORS:
Facebook: https://www.facebook.com/WwpEuropeanNetwork/
The website of WWP was: https://www.work-with-perpetrators.eu/
Instagram: https://www.instagram.com/european_network_wwp
BOOKS MENTIONED:
https://www.amazon.com/Shifting-power-recognize-psychologically-relationships/dp/1500227951
https://www.amazon.com/Becoming-Ethical-Parallel-Political-Journey/dp/1905541406/ref=sr_1_fkmr0_1?ie=UTF8&qid=1534776252&sr=8-1-fkmr0&keywords=allan+jenkins+becoming+ethical
MORE ABOUT PAVE
Website: https://www.aliannelooijenga.com
Facebook: https://www.facebook.com/PAVE-professionals-against-violence-podcast-1253878638026611/
Instagram: https://www.instagram.com/aliannelooijenga/
SPONSORS
If you want to be a guest on the PAVE podcast, a volunteer working for PAVE, are you interested in becoming a PAVE sponsor, do you want to help us in an other way, email me to see how we can work together to end the violence against women and children.
email: alianne@aliannelooijenga.com
Podcast: Play in new window | Download
Subscribe: RSS