Manisha Tailor is a trained Head teacher who previously worked as a deputy head in a primary school. She has always had a passion for football and her personal experience of becoming a young carer 20 years ago inspired her to develop work around mental health using sport. In 2013 she received the Woman in Football Award at the Asian Football Awards and was honoured with an MBE in the 2017 new years honours list for her services to football anf diversity in sport. She tutors for The FA delivering equality education as well as one of few female ethnic minority women who holds part time contract as an academy coach at Queens Park Rangers Football Club. 
She has recently published a teaching resource to help teachers and parents create open dialogue around different issues concerning wellbeing and our mental health.  It is titled "Child in Mind" and available to purchase on Amazon.
To listen to the PAVE podcast Episode 013 with Manisha Tailor from Swaggarlicious please click here: https://itunes.apple.com/nl/podcast/pave-professionals-against-violence-podcast/id1203285774?mt=2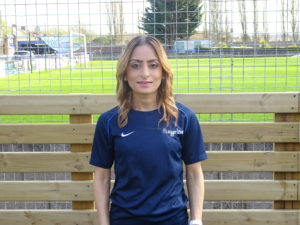 About your host: 
Alianne Looijenga is an international speaker motivating organizations to effectively help survivors of partner abuse, child abuse and sexual abuse. She is also the founder of aliannelooijenga.com and the Professionals against violence (PAVE) podcast.   Alianne is a survivor of sexual abuse (including rape); partner abuse; and is the mother of twins who were abused by their biological father after a judge granted him visitation rights when the children were three years old.
Alianne is dedicated to the empowerment of survivors of abuse and to support organisations working to end the violence against women and children.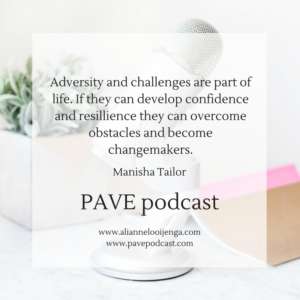 TOPICS DISCUSSED AND ORGANISATIONS/EVENTS MENTIONED IN THIS EPISODE:
0-5:00 About Manisha and Swaggarlicious
12:00 FA's equality education, football for all, the FA steering group
17:50 Running a business on your own earnings
20:00 How football helped Manisha, because football was a way for Manisha to help her brother with his disease. Manisha's twinbrother became nonverbal after a series of traumatic events and long term bullying.
23:00 Becoming a young deputy head, losing feeling with the game, fueling anger in wanting to be succesful and finding a way to cope with anger, frustration and sadness.
Using football to reconnect with her brother and her emotions.
28:00 Chosing for her brother instead of her own dreams, untill he is happy and can take care of his self
29:00 Finding peace and being happy with her life
31:00 Coping with feelings of guilt towards her brother
32:00 How Manisha lives her life to the fullest within the situation she is given
33:00 How children came up with the name Swaggarlicious
38:00 Empowering girls to become changemakers
39:00 Manisha's ultimate goals and dreams to:
Work fulltime at a professional footballclub and not to only empower those who suffer from mental health but support government bodies, service providers that in the years to come would be an accomplisment.
44:00 what Manisha needs to continue and ways we can support:
45:00 being author of "child in mind" book
47:00 Interesting read: "the effective board member" from Karl George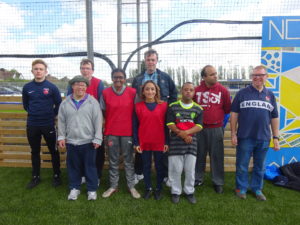 TWEETABLES:
MORE ABOUT MANISHA and SWAGGARLICIOUS
The website is: http://swaggarlicious.com/
Facebook: https://www.facebook.com/swaggarlicious/
Twitter: https://twitter.com/Swaggarlicious_
Instagram: https://www.instagram.com/swaggarlicious_/?hl=nl
Amazon: https://www.amazon.co.uk/Child-Mind-teaching-understanding-wellbeing/dp/152721852X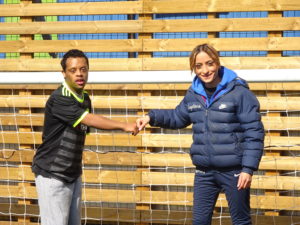 MORE ABOUT PAVE
Website: https://www.aliannelooijenga.com
Facebook: https://www.facebook.com/aliannespeaks/
Instagram: https://www.instagram.com/aliannelooijenga/
SPONSORS
If you want to be a guest on the PAVE podcast, a volunteer working for PAVE, if you are interested in becoming a PAVE sponsor, or want to help us in an other way, email me to see how we can work together to end the violence against women and children.
email: alianne@aliannelooijenga.com
To listen to the PAVE podcast Episode 013 with Manisha Tailor from Swaggarlicious please click here: https://itunes.apple.com/nl/podcast/pave-professionals-against-violence-podcast/id1203285774?mt=2
Podcast: Play in new window | Download
Subscribe: RSS