Barry Goldstein is an internationally recognized domestic violence author, speaker and advocate. He is the author of five of the leading books about domestic Violence and child custody, most recently, The Quincy Solution: Stop Domestic Violence and Save $500 Billion. Barry will be the featured speaker at an international conference in Melbourne, Australia on August 3. He developed the Safe Child Act which is the solution to the widespread failure of custody courts to protect children in abuse cases. Barry frequently serves as an expert witness to try to educate courts about current research. He is Director of Research for the Stop Abuse Campaign and co-chair of the Child Custody Task Group for NOMAS.
To listen to the PAVE podcast Episode 014 with Barry Goldstein  please click here: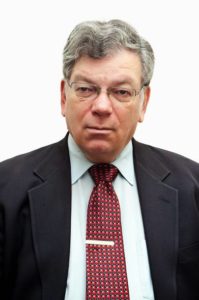 About your host: 
Alianne Looijenga is an international speaker motivating organizations to effectively help survivors of partner abuse, child abuse and sexual abuse. She is also the founder of aliannelooijenga.com and the Professionals against violence (PAVE) podcast.   Alianne is a survivor of sexual abuse (including rape); partner abuse; and is the mother of twins who were abused by their biological father after a judge granted him visitation rights when the children were three years old.
Alianne is dedicated to the empowerment of survivors of abuse and to support organisations working to end the violence against women and children.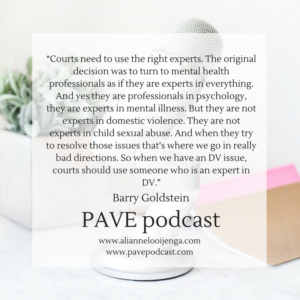 TOPICS DISCUSSED AND ORGANISATIONS/EVENTS MENTIONED IN THIS EPISODE:
2.20 How did you become a domestic violence speaker, author and advocate?
4.00 The definition of a protective parent?
6:29 PAS
Bad reputation
Court professionals, doesn't know about the origin of PAS
7.00 Joan Meier ( is a nationally recognized expert on domestic violence and the law, appellate litigation, and clinical law teaching)
8:26 The criminalisation of protective mothers
11.27 Safe child act
20:00 When abusers try to regain control over their victims using the family court system.
25:00 Working with Mo Hannah and being an author.
32:00 How Barry got the nickname "Believer". (+ court example of bad judgement and the consequences of not being believed by a judge)
TWEETABLES and QUOTES:
"Courts need to use the right experts. The original decision was to turn to mental health professionals as if they are experts in everything. And yes they are professionals in psychology, they are experts in mental illness. But they are not experts in domestic violence. They are not experts in child sexual abuse. And when they try to resolve those issues that's where we go in really bad directions. When we have an DV issue, courts should use someone who is an expert in DV."
MORE ABOUT BARRY GOLDSTEIN
Facebook:https://www.facebook.com/GoldsteinBarry/
Amazon: Scared-Leave-Afraid-Stay-Violence
Amazon: Quincy-Solution-Barry-Goldstein
The website of the stop abuse campaign is: http://stopabusecampaign.org/about/board/barry-goldstein
MORE ABOUT PAVE
Website: https://www.aliannelooijenga.com
Facebook: https://www.facebook.com/aliannespeaks/
Instagram: https://www.instagram.com/aliannelooijenga/
SPONSORS
If you want to be a guest on the PAVE podcast, a volunteer working for PAVE, are you interested in becoming a PAVE sponsor, do you want to help us in an other way, email me to see how we can work together to end the violence against women and children.
email: alianne@aliannelooijenga.com
Podcast: Play in new window | Download
Subscribe: RSS