Lyndsey Dearlove has spent the past couple of years developing UK SAYS NO MORE – a national initiative to raise awareness of domestic abuse and sexual violence in the UK and Bright Sky – a domestic abuse and sexual violence awareness and prevention app for victims of abuse, professionals and for those who are concerned about a friend, colleague or family member. Prior to this Lyndsey has worked with victims of domestic abuse, sexual violence and violent crime for over 15 years.
She has managed domestic abuse outreach support services, refuges, children and family services, Independent domestic violence services (IDVA) and co-ordinated multi-agency risk assessment conferences (MARAC's). During her time as the manager of the Hillingdon domestic abuse outreach service, she developed the award winning Butterfly Project which is an adaptable model for survivor led – peer support groups. Lyndsey has extensive experience in creating and delivering training around gender constructs, peer support, young people and abuse, risk assessment and management, domestic abuse and sexual violence.
She has delivered training to the Metropolitan police, Local authorities, not for profit organisations, universities and colleges and most recently the National Football League (NFL), where she created and delivered training around gender, domestic abuse and sexual violence. Lyndsey enjoys bringing people to together; to share experiences, ideas, knowledge and expertise and truly believes that only by working together can we end domestic abuse and sexual violence.
ABOUT HESTIA – Hestia delivers services across London and the surrounding regions, as well as campaign and advocate nationally on the issues that affect the people we work with. Last year they supported over 9,000 men, women and children. This includes victims of modern slavery, women and children who have experienced domestic abuse, young care leavers and older people. From giving someone a home, to helping them to get the right mental health support, they support people at the moment of crisis and enable them to build a life beyond a crisis. Hestia is supported by more than 460 volunteers across London who provide specialist skills such as art therapy, yoga, IT, gardening and cooking, as well as befriending and fundraising. Hestia is proud to be the home of UK SAYS NO MORE, bringing together a diverse coalition of individuals, charities, businesses and public sector organisations to campaign for an end to domestic abuse and sexual violence.
UK SAYS NO MORE is a national campaign launched to raise awareness of domestic violence and sexual assault across the UK. The campaign was launched by London charity Hestia in 2016. UK SAYS NO MORE seeks to unite and strengthen a diverse community of members of the public and organisations nationwide to actively take a stand against domestic violence and sexual assault under one powerful, visual symbol. The campaign provides open-source tools and resources for individuals and organisations to take action and get involved in ending domestic violence and sexual assault. Together we can challenge the myths and misconceptions around these issues, share resources and information, and ultimately work together to make real positive change.
To listen to the PAVE podcast Episode 012 with Lyndsey Dearlove please click here: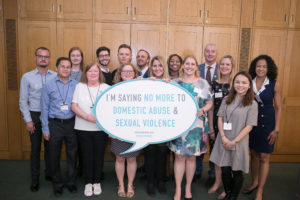 About your host: 
Alianne Looijenga is an international speaker motivating organizations to effectively help survivors of partner abuse, child abuse and sexual abuse. She is also the founder of aliannelooijenga.com and the Professionals against violence (PAVE) podcast.   Alianne is a survivor of sexual abuse (including rape); partner abuse; and is the mother of twins who were abused by their biological father after a judge granted him visitation rights when the children were three years old.
Alianne is dedicated to the empowerment of survivors of abuse and to support organisations working to end the violence against women and children.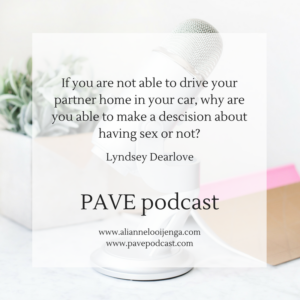 TOPICS DISCUSSED AND ORGANISATIONS/EVENTS MENTIONED IN THIS EPISODE:
0-19 minutes: About Hestia, UK says no more, Lyndsey Dearlove
20.00 NFL ambassadorprogram where football players teach other boys about what masculinity means in this society, concent in healthy relationships and what their role is to end the violence against women. 
"If I am unable to drive someone home in a car why are you able to decide if you are able to have consensual sex or not"
25:00 No more hub
26:00 UK says no more week
30:00 When Lyndsey is old and is looking back at her life, what does she want to have accomplished?
34:00 minuten Victim blaming "Knowledge is nothing untill you share it ". 
"We have to have domestic abuse training and sexual violence training in every single organisation"
36:00 listening without judging
37:00 an exercise Lyndsey always does with her students to let them feel the reality survivors face when leaving an abuser. 
40:00 Managing UK says no more and working with surviving children
45:00 The importance of education 
49:00 How to leave your work at work
50:00 Taking time to reflect
51:00 With all things going on, what is Lyndsey most eager to solve
57:00 Advice inspiration and a succes story
TWEETABLES:
MORE ABOUT UK SAYS NO MORE
Our website is: http://uksaysnomore.org/
Facebook: https://www.facebook.com/UKSAYSNOMORE/
Twitter: https://twitter.com/UKSAYSNOMORE
Instagram: https://www.instagram.com/uksaysnomore/?hl=en
MORE ABOUT PAVE
https://www.instagram.com/aliannelooijenga
SPONSORS
If you want to be a guest on the PAVE podcast, a volunteer working for PAVE, if you are interested in becoming a PAVE sponsor, or want to help us in an other way, email me to see how we can work together to end the violence against women and children.
email: alianne@aliannelooijenga.com
To listen to the PAVE podcast Episode 012 with Lyndsey Dearlove from UK says NO MORE please click here:
Podcast: Play in new window | Download
Subscribe: RSS