Upasana Chauhan is the founder of Superwoman Next Door. She is an UN Representative  of Manup Campaign, spread across 23 countries to involve men in the battle of Gender Equality. Upasana send me an impressive list of 14 organisations/projects she is involved with including many from the UN, but it would be a too long (although impressive) list to share on this blogpage. If you want to read it for yourself, click here: http://www.womenshealthsection.com/content/documents/Upasana_Chauhan_Resume.pdf
Upasana's dream and passion is to encourage and empower every girl next door to be courageous to DARE TO DREAM and be her own superwoman to get those dreams. She is on the drafting committee for the Newyork City for CEDAW bill.
To listen to the PAVE podcast Episode 011 with Upasana Chauhan please click here: PAVE podcast with Upasana Chauhan on Itunes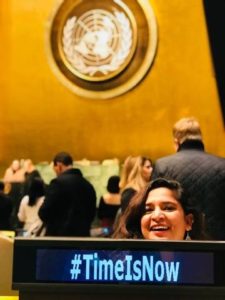 About your host: 
Alianne Looijenga is an international speaker motivating organizations to effectively help survivors of partner abuse, child abuse and sexual abuse. She is also the founder of aliannelooijenga.com and the Professionals against violence (PAVE) podcast.   Alianne is a survivor of sexual abuse (including rape); partner abuse; and is the mother of twins who were abused by their biological father after a judge granted him visitation rights when the children were three years old.
Alianne is dedicated to the empowerment of survivors of abuse and to support organisations working to end the violence against women and children.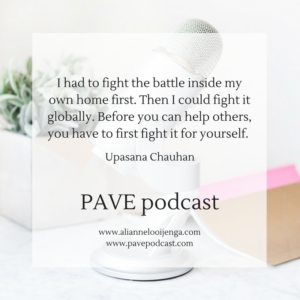 TOPICS DISCUSSED AND ORGANISATIONS/EVENTS MENTIONED IN THIS EPISODE:
1:24 : Growing up in India
2:50 Paving your own path and paving the path for others 
3:15 NGO "I do dare", ManUp campaign of the UN, Upasana's career so far. 
7:00 Is there a change within the men of India, about how they view women? 
7:30 How men teach other men about women's rights
8:00 Losing your identity as a woman when you marry in India
10:00 What Upasana discovered when she was looking for an arranged marriage
12:00 Passing values on to your children
14:50 What drives Upasana
21:00 When women are objects and have no rights
24:00 How do you re-energize when you fight so hard for other women's rights?
32:00 Why people believe that they are entitled to judge another human being
33:00 Rediscovering your identity
35:00 Female suicides in India 
I can do anything for them, but I can't go to their homes with them. Because that is a battle that each one has to fight for themselves.
I had to fight the battle myself inside my own home first. Then only I can fight it globally. You have to first fight it for yourself.
40:00 The importance of financial independence
Take that fear out of your body. Throw the fear out. Fear controls you. You get scared what happens if I do this, or what happens if I do that.
44:00 Upasana's advice if you want to change other people's lives
46:00 Why your work should not be about you
48:00 When you respond with kindness and love to people who put you down, you include them into your journey
51:00 How we can support Upasana by sharing stories about women who live next door to us.
"Alianne is equally Oprah Winfrey as Oprah Winfrey is Alianne.
You are your own superwoman in your own way doing your own amazing thing. So is Oprah. The only difference is that the whole world knows Oprah, and your neighbor knows Alianne. But is Alianne any less than Oprah? No. And that's why I started SuperWoman Next Door." – Upasana Chauhan 
59:00 Initial ending: yeah kidding, we talked further
1:03:00 Get out of that thing that holds you down
Be your own superwoman. Don't wait for someone to save you. Nobody will come and save you. You will have to save yourself. There is no prince charming. And even if there is, he can come and join you while you save yourself. But you don't have to sit and wait around. You have to take control.
1:08:00 Being grateful in difficult times, ending. 
TWEETABLES:
MORE ABOUT UPASANA AND SUPERWOMAN NEXT DOOR
https://twitter.com/upasanac?lang=en
https://www.facebook.com/superwomannextdoor/
To submit stories to Upasana:
MORE ABOUT PAVE
https://www.instagram.com/aliannelooijenga
SPONSORS
If you want to be a guest on the PAVE podcast, a volunteer working for PAVE, if you are interested in becoming a PAVE sponsor, or want to help us in an other way, email me to see how we can work together to end the violence against women and children.
email: alianne@aliannelooijenga.com
To listen to the PAVE podcast Episode 011 with Upasana Chauhan please click here: PAVE podcast with Upasana Chauhan on Itunes
Podcast: Play in new window | Download
Subscribe: RSS