Kerry Gibson is planet 5050 champion to UN women and the president of EcoCentury Technologies. With support from UNWomen, politcal leaders and activists she raised awareness for early and forced marriage  globally and in North America via the event: Not yet for the dress.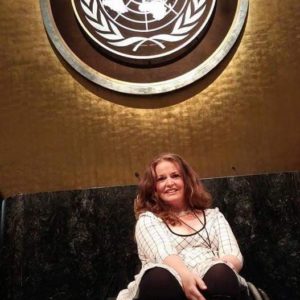 To listen to the podcast you can click the player button above or if you want to listen to the Itunes store please visit: https://itunes.apple.com/nl/podcast/pave-professionals-against-violence-podcast/id1203285774?mt=2&i=1000400774077
About your host: 
Alianne Looijenga is an international speaker motivating organizations to effectively help survivors of partner abuse, child abuse and sexual abuse. She is also the founder of aliannelooijenga.com and the Professionals against violence (PAVE) podcast.   Alianne is a survivor of sexual abuse (including rape); partner abuse; and is the mother of twins who were abused by their biological father after a judge granted him visitation rights when the children were three years old.
Alianne is dedicated to the empowerment of survivors of abuse and to support organisations working to end the violence against women and children.
TOPICS DISCUSSED AND ORGANISATIONS/EVENTS MENTIONED IN THIS EPISODE:
1:20 how Kerry became involved with UN women
3:00 getting the reward title of 50/50 champion
5:29 childbrides an north America issue
6:40 polygamous cult bountifall
7:50 rasing awareness early forced marriage via the event not yet for the dress
20:28 How a curious message Kerry received resulted in Wellington Chibebe freeing a woman in a labour camp
28:00 how the mindset of her granddad inspires her to this day, the cause of her believe in gender equality
39:00 The impact of Dolly Parton's quote: The way I see it, if you want the rainbow, you gotta put up with the rain.
MORE ABOUT KERRY GIBSON and NOT YET FOR THE DRESS
Kerry Gibson
https://twitter.com/kerryandlace y
www.ecocentury.ca
Not Yet for the Dress 
https://www.facebook.com/events/1866892113529209/?ti=cl
MORE ABOUT PAVE
https://www.instagram.com/aliannelooijenga
SPONSORS
If you want to be a guest on the PAVE podcast, a volunteer working for PAVE, if you are interested in becoming a PAVE sponsor, or want to with us in an other way, email me to see how we can work together to end the violence against women and children.
email: alianne@aliannelooijenga.com
Podcast: Play in new window | Download
Subscribe: RSS